Issue the First
(SOLD OUT)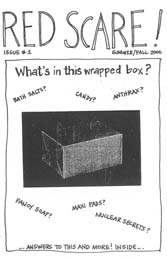 Sadly this vintage, tree-free and hand-scrawled edition ofRED SCARE #1 is out of print. Someday i will get really ambitiousand put its entirety on the web. For now please settle for this vaguedescription of its contents:
Harrowing tales of posture faults and nervous fatigue
The true story of tampons (YES they're made from trees!)
How to get the Radical Cheerleaders cheerbook!
Stories of senseless public displays of machismo
...and yes, there is so much more.

back to RED SCARE