Stuff to Trade...
ZINES
T-SHIRTS &STICKERS
RAGS
RED SCARE BOOTY
---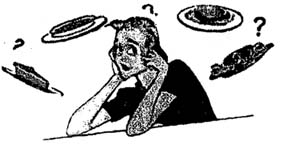 There's lotsa places to find all kindsa rad zines, includingjust poking around the internet, riot grrl & punk rock shows &conferences & festivals, and your friendly neighborhood independent/anarchistbookstore. But since you're here, these are a few zine sites, distros &bookstores that i'd like to recommend...

Zinestershomepage - a great resource for zine-makers and zine-seekers alike.
Pander Zine Distro- it's a kickass zine distro. it's an online community. it'sso much more!
Echo ZineDistro - incredible selection of cheap or free zines, from vegan cookzinesto antichrist comics. Find spectacular zines there like Tight Pants andThe Bear Deluxe.
Scream QueenZine Distro - a child of the Richmond (VA) hardcore, arts, & DIYscene. excellent resources and fabulous zines.
Peruse Zine Distro- a rad new grrl-run distro -- great place to go for fun zines or to getyour zine distro'd!
Paper ExplosionZine Distro - zines, stickers & buttons, feminist action &lots of menstrual politics. Check it out!
Beyond a Joke,zine & distro - a one-womyn show from the heart of Northern Virginiain the DC Metro area. Dedicated to all those who are passionate about punk,political, hardcore, riot grrrl, personal, art, and everything else.
Youth in Revolt- a barter/trade-only mail-order catalog for zines & other good stuff.Check it out!!
Internationalist Books - Chapel Hill's amazing independentbookstore. Box 405, W. Franklin St, Chapel Hill, NC (919) 942-1740
Secret Sailor Books - the Midwest's favorite source for anarchistbooks/mags/art/music & more, in B-town. 202 N. Walnut Bloomington,IN 47404 (812) 333-0173
T-SHIRTS & STICKERS
RED SCARE t-shirts & otherhomemade stuff here! Trade, barter, other cheap/free arrangements accepted...
Two Girls & aGarage - rad t-shirts, patches, etc. about body image, vegan stuff,queer stuff, and other stuff. Incredible links, too.
Inky Fingers - womyn & queer-friendly t-shirts &more (website is down right now -- i'll update when they're back!).
HOME-MADE RAGS
Wouldn't it be cool to make yer own super-comfy & absorbentall-cotton washable reusable superdooper menstrual pads? It's easy,too! Clickhere for the rags page!!!! Or checkout these other fine sites w/ patterns, instructions, and pads to order:
Many Moons DIY instructions& pattern.
back to REDSCARE